RV5216 - RV 5220
Vicon RV 5216 - 5220
High Performance Variable Chamber Balers
The all-new RV 5216 and RV 5220 feature the new patented PowerBind net and twine wrapping and Intelligent Density 3D software package for easy selection of bale density. Both models offer truly intelligent baling with a clean raking 2.2m 5 tine bar pick-up, choice of intake system, programmable 'multi chamber' bale density system and user friendly ISOBUS compatible controls The two versions offer bale diameters from 0.60m up to 1.65m and 2.00m respectively. The bale diameter is easily adjusted through the control terminal.
The Advantages:
Intelligent Density 3D with new easy setting of bale density - pre-selectable from the tractor cab.
New PowerBind with direct net injection for fast and highly reliable netting.
2.2 m pick-up with small diameter.
PowerFeed rotor intake for impressive intake capacity.
SuperCut-14 and 25 knife rotors for efficient cutting and tight bales.
DropFloor for easy unblocking.
3 different core densities, pre-selectable from the tractor cab.
Easy and simple loading of net roll.
ISOBUS control.

Technical Specifications:
| | | | |
| --- | --- | --- | --- |
| | Bale Diameter | Intake System | Binding |
| RV 5216R | 1.20 x 0.6 - 1.65m | PowerFeed | Twine, net, double |
| RV 5216 SC-14 | 1.20 x 0.6 - 1.65m | SuperCut-14 | Net, double |
| RV 5216 SC-25 | 1.20 x 0.6 - 1.65m | SuperCut-25 | Net |
| RV 5220R | 1.20 x 0.6 - 2.00m | PowerFeed | Twine, net, double |
| RV 5220 SC-14 | 1.20 x 0.6 - 2.00m | SuperCut-14 | Net, double |
| RV 5220 SC-25 | 1.20 x 0.6 - 2.00m | SuperCut-25 | Net |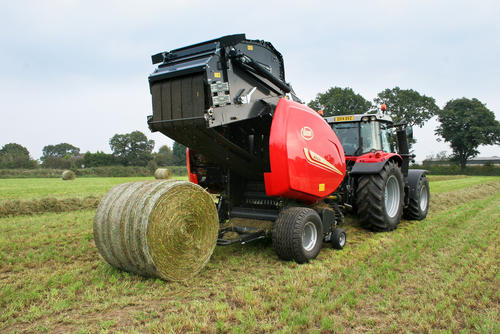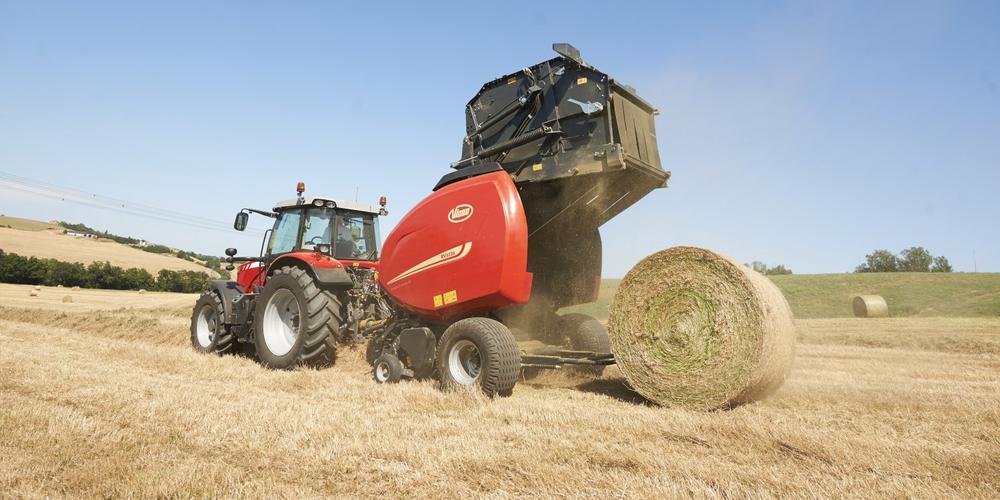 ---
PowerBind Net Wrap
One of the fastest net wrap actions available. This means minimum downtime and maximum time baling.
The net is fed directly into the bale chamber by an injection arm in a flat movement angle to keep the net tight at all times.
Accurate and extremely reliable net injection.
No interference from external factors such as wind and crop.
when the bale is 90% complete the injection arm moves forward, ready for the net injection. No time is spent picking up the net. In fact
Very low loading height, for maximum convenience and time saving. To replace the empty roll just swing out the shaft and replace it with a new roll
The PowerBind net wrap system allows the net to extend past the edge of the bale.




---
Intelligent Density 3D
Setting and selection of correct bale density is vital in order to the get right quality of the bale. Especially when the baler is utilized through the full season in different crops like straw, hay and silage it is important to adjust the bale density to specific type of material.
Intelligent Density 3D with 3 pre-selected bale density settings making it very easy to choose the correct bale density in different crops.
It is however still possible to customize the bale density in 3 separate zones each with a choice of diameter and pressure to match specific request.
With the new Intelligent Density 3D application three pre-configured bale densities are available from the menu of the control box, each of them tailored for straw, hay or silage. This makes the change-over from different crop material much easier limiting the risk of mistakes.
Baling dry strawand want the heaviest bales possible? Maximum pressure is set in every zone.
Baling hay?Soft centre core to let the bale breath is set, with gradually increasing pressure towards the outer layer.
Baling wet silage?Pressure is reduced in the centre and mid zones.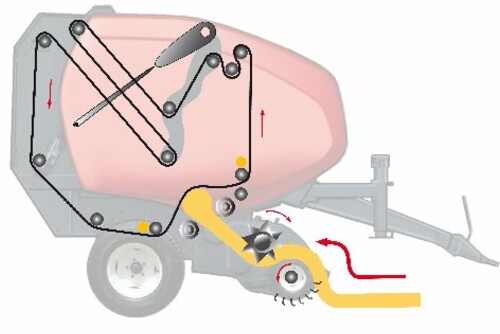 ---
ISOBUS Control
IsoMatch Tellus Terminal
The IsoMatch Tellus is the new virtual terminal, offering 2 Interface screens in 1 terminal. The large 12" easily programmable touch screen offers ergonomic use and is designed for long days of operation.
Due to the increasing number of functionalities that can be added to a machine such as cameras, the operator can use the baler interface in the top screen and a camera display in the bottom screen, to monitor finished bales.
Another possibility is to use the baler interface in the top screen and the tractor interface screen at the bottom.
The Focus Control Terminal
The Vicon Focus terminal is easy to learn and very intuitive, with focus on functionality and operating simplicity. The Focus terminal is a universal control terminal which can also be used with other implements from Kverneland Group.
The Focus terminal gives you full control of all functions from the tractor cab. They are shown on a large and very clear digital display. The Focus terminal monitors and controls all necessary functions with all relevant parameters / information visible at a glance. The control box is also driving the binding automatically without any intervention from the operator.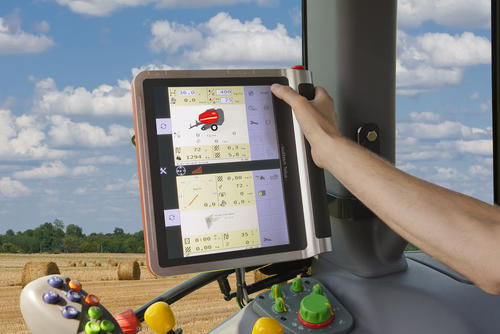 ---
2.2m Wide Pick-Up
2.2m pick-up with small diameter pick-up reel for fast and efficient throughput.
Pick-up with 5 rows of tines
Twin cam tracks
Tine bars with two central supports.
Small diameter pick-up design.
Roller crop press is standard.
Narrow transport width – no need to remove the pick-up wheels for transport.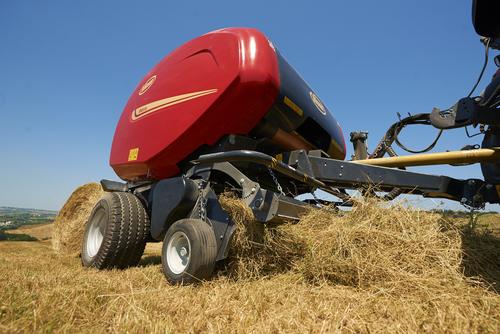 ---
Intake Rotor
SuperCut-25
The SuperCut-25 pre-chopping system offers the ultimate solution for short chop baling with a chop length of 40mm. The short and precise chop provides dense and airtight bales for the best possible silage quality.
The operator can choose to engage 5, 13, 1 or 0 knives, giving maximum flexibility of operation.
The SuperCut- 25 knives are fitted with dual action protection against foreign objects. Each knife is individually spring protected and can move in two directions
SuperCut-14
The SuperCut-14 knife chopping system provides a fast and efficient flow into the baler. With a chopping length of 70 mm it is the ideal solution for producing tight bales with superb silage quality.
Each individual knife is spring protected against foreign obstacles. The knife will immediately return to working position once the obstacle has passed.
PowerFeed Rotor Intake
Truly impressive intake capacity can be achieved with the PowerFeed rotor intake system - handling all crop types with ease, whatever the conditions.
The PowerFeed rotor with its 13 rotor fi ngers proactively forces the material into the bale chamber for higher intake speed and capacity proving instant bale start.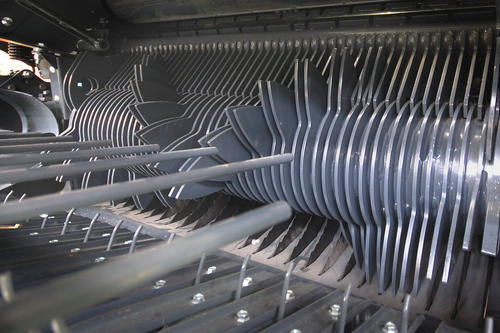 ---
New Parallelogram DropFloor system for easy unblocking
Whichever rotor or pre-chopping intake system you choose, your Vicon baler comes equipped with the new Vicon Parallelogram drop floor system, which brings faster and easier clearing of blockages from the comfort of the tractor cab.This patented system not only lowers the rear edge of the drop floor as per traditional systems, but also provides additional space under the front section of the floor, where blockages is more likely to occur.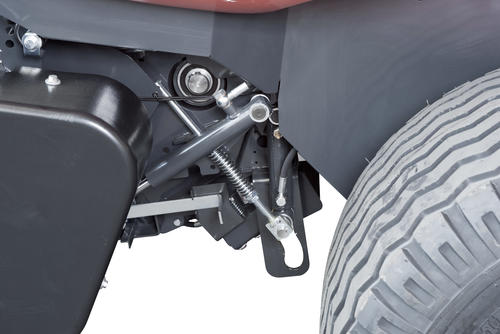 There are no products matching the selection.
Opening Hours
Monday to Friday 8:00 - 5:00
Saturday 8:00 - 12:00
find us
Franks Curtis Ltd
Beansheaf Industrial Park
Kirby Misperton
Malton
North Yorkshire
YO17 6BG
Tel: 01653 668501