RotaFlow RO-EDW
Vicon RotaFlow RO-EDW
High Tech Weighing with High Capacity
The RO-EDW is the top of the range model. This ISOBUS 11783 compatible weighing spreader is equipped with an unique reference sensor. The FlowPilot dashboard on each spreading disc ensures simple and quick setting or adjustment. Different hopper capacities are available: two different basic hoppers of 1.500 and 1.875 litres and they can be increased with maximal 3 hopper extensions up to 3.450 and 3.900 litre capacity! Working widths from 12 up to 54m are possible. The RO-EDW can be operated with the IsoMatch Tellus, IsoMatch Tellus GO terminal or any ISOBUS compatible tractor terminal.
The Advantages:
RotaFlow spreading system
Fully automatic weighing system with unique reference sensor
FlowPilot for quick and easy adjustment
Border spreading is easy!
ISOBUS 11783 compatible for easy plug and play
Possible in combination with IsoMatch GEOcontrol
Technical Specifications
| | | | | |
| --- | --- | --- | --- | --- |
| RO-EDW (narrow) | 1500 | 2150 | 2800 | 3450 |
| Hopper capacity (l) | 1500 | 2150 | 2800 | 3450 |
| Filling height (cm) | 110 | 129 | 148 | 167 |
| Width (cm) | 275 | 275 | 275 | 275 |
| Filling width (cm) | 269 | 269 | 269 | 269 |
| Empty weight (kg) | 665 | 695 | 725 | 755 |
| Spread width (m) | 12 - 45 (54)* | 12 - 45 (54)* | 12 - 45 (54)* | 12 - 45 (54)* |
| Output (kg/min) | 10 - 320 | 10 - 320 | 10 - 320 | 10 - 320 |
| | | | | |
| --- | --- | --- | --- | --- |
| RO-EDW (wide) | 1875 | 2550 | 3225 | 3900 |
| Hopper capacity (l) | 1875 | 2550 | 3225 | 3900 |
| Filling height (cm) | 120 | 139 | 158 | 177 |
| Width (cm) | 290 | 290 | 290 | 290 |
| Filling width (cm) | 284 | 284 | 284 | 284 |
| Empty weight (kg) | 705 | 735 | 765 | 795 |
| Spread width (m) | 12 - 45 (54)* | 12 - 45 (54)* | 12 - 45 (54)* | 12 - 45 (54)* |
| Output (kg/min) | 10 - 320 | 10 - 320 | 10 - 320 | 10 - 320 |
* Depending on fertiliser type and type of vanes.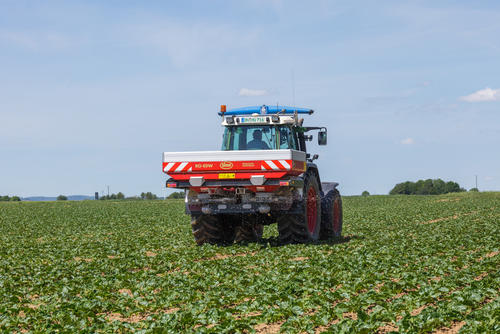 Highlights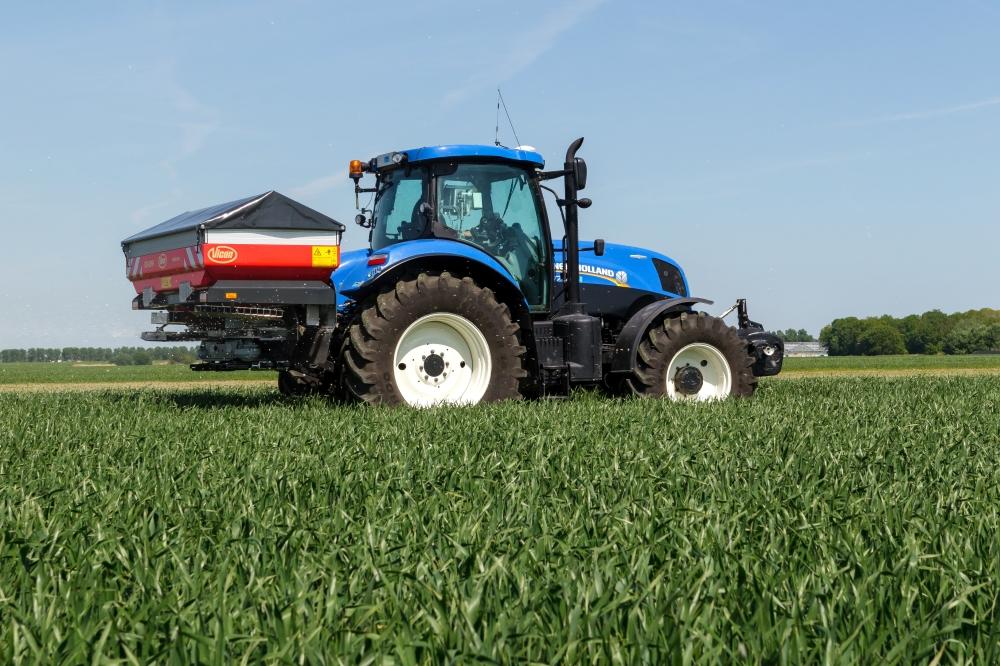 ---
RotaFlow Spreading System
No impact, no fragmentation, no dust: Central release point, smooth acceleration and centrifugal force accelerates fertiliser up to disc speed before it reaches the vane.
Accurate spreading pattern: A double overlap spreading pattern gives unrivalled accuracy. The 8 vanes per discs are ensuring a continous flow of fertiliser to the field. This is important for high capacity spreading and forward speed.
Minimal wind influence, maximum tolerance: Flat discs and a horizontal flow of fertiliser give a symmetrical spreading pattern.
Consistent spreading pattern: Eight vanes per disc, eight sectors per revolution give an equal distribution. Double overlap spreading pattern.
Guaranteed accuracy on slopes: guaranteed accuracy on slopes. The fertiliser always contacts the vanes at the same point, also on slopes and travels the complete length of the vane.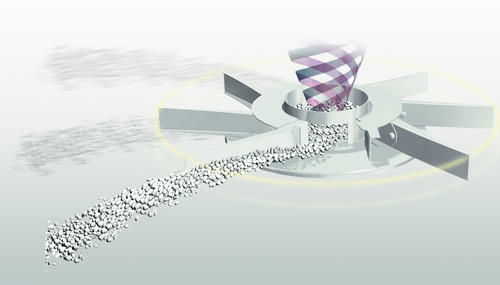 ---
Weighing System
Continuous dynamic "online - calibration" with high frequency communication signal.
Vicons unique reference sensor technology: all negative influences are automatically corrected and eliminated, ensuring utmost spreading accuracy even on hill sides. The Vicon reference sensor gives you absolute accuracy, because every kilo counts!
Load cells in combination with the unique reference sensor:
- Auto calibrating and continuous weighing system
- Automatic correction on slopes
- Automatic correction of shocks, even on rough terrain
- Automatic speed related dosing system
- No calibration test needed
Highest accuracy in all conditions: even spreading quality guaranteed! Save costs and increase quality!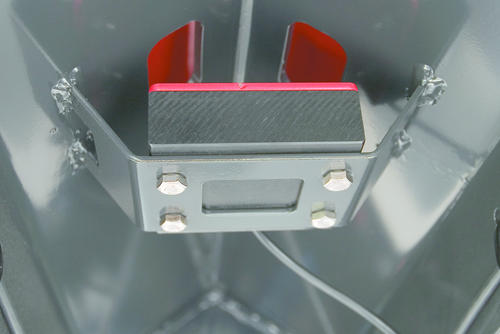 ---
FlowPilot: Easy Setting and Adjustment
The compact FlowPilot 'dashboard' gives you considerably simplified accurate setting and adjustment of applicaton rates. Two hydraulically operated metering plates, each with three discharge openings ensure an equal fertiliser flow from the hopper to the spreading discs.
The development department of Vicons spreader R&D team has its own spreader competence centre in order to allow continuous testing throughout the year. All test are carried out according to the strictest international standards and quality requirement.
The key to accurate spreading is matching fertiliser quality and litre weight with the spreading charts as close as possible. The RotaFlow 6 step checklist helps you to ensure consistent accuracy in all field conditions:
1. Select fertiliser type
2. Determine granule size and distribution
3. Determine litre weight
4. Select spreading table
5. Select field settings
6. Adjust FlowPilot system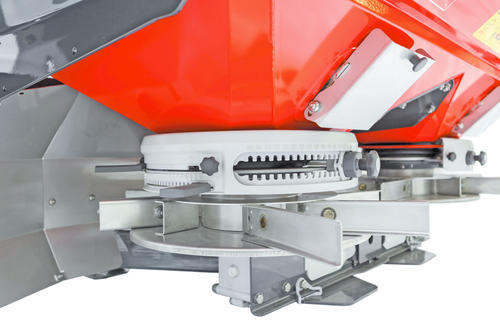 ---
Border Spreading
Vicon offers the TrimFlow system or manual/hydraulic border spreading plate for border spreading. The TrimFlow can be accurately set for all types of fertiliser and for all working widths. Operation is easy, no need to leave the tractor seat. For the RO-M is also a tramline cylinder optional available.
With one-side boundary spreading the tractor is driven approximately 2 metres from the field border.
With boundary track spreading the tractor is driving in the first tramline and is spreading to the border. The distance to the border is the half of the working width.
The Border Spreading Indicator (BSI), indicates which border spreading device is active.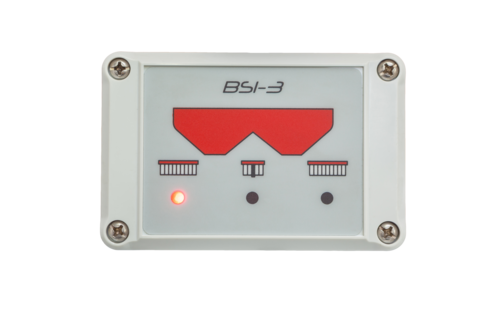 ---
ISOBUS Control
ISOBUS intelligence: Standard on Our Weighing Spreaders
You are ensured of the ISOBUS compatibiliy from tractor to the spreader and spreader to tractor, meaning that all data collection from your spreader is centralised and can be easily transferred to your (tractor) terminal in your tractor cabin. Easy plug and play!
IsoMatch Tellus GO:
The IsoMatch Tellus GO is a Universal Terminal. This multifunctional one-screen terminal has been developed for fast and simple control of any ISOBUS implement, giving the farmer a 'custom made' experience as it suits all needs for simple and efficent handling of farming machinery and tasks.
IsoMatch Tellus terminal:
The IsoMatch Tellus is the first Universal Terminal with the capability to view and operate 2 different ISOBUS interfaces at once. This allows for example direct control of 2 implements at the same time for continuous observation of a camera view, without switching screen.

Large 12,1" colour touch-screen
Intuitive operation
Basic DOC registration program to save operational information directly to USB
Four USB slots for easy data exchange, wireless USB stick or USB to serial cable for additional sensors
Build in PDF reader
RS232 connection for GPS receivers or sensors
Internet connection via a wireless USB stick or router
Integrated web browser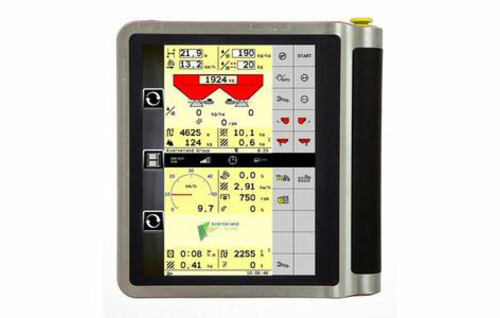 ---
IsoMatch GEOcontrol
IsoMatch GEOcontrol is an additional software application within the IsoMatch Tellus that helps you to control all ISOBUS compatible Kverneland Group machines such as sprayers, spreaders and seeders! Combined with a GPS receiver it fulfils the future needs in terms of easy, smart and efficient farming.
Section control: Automatic switching on and off implement sections on headlands, boundaries and already covered areas to minimise overlap.
Variable rate control: Automatically adjusts the implement application rate based on input from the field prescription.
Documentation: Saves all operational job data and field maps for exchange via USB to farm management information systems.
Manual guidance: Advised driving position using guidance lines in the field and on headlands. Smart boundary recording: independent from the working width, even without any implement corrected. Boundary shrinking: create new inner boundaries by setting the desired width of the headland. Manual guidance for all operations, includes non-electric or non-ISOBUS implements.
IsoMatch GEOcontrol - The Advantages
Easy and comfort of operation, due to not having to manually switch on or off sections or change the application rate. You can focus 100% on driving in the field.
More efficient work and avoiding overlap leads to cost savings of 5-10% on fertiliser. Better growing conditions and increased yield.
With IsoMatch GEOcontrol, working at night becomes very easy. IsoMatch GEOcontrol reduces the workload considerably.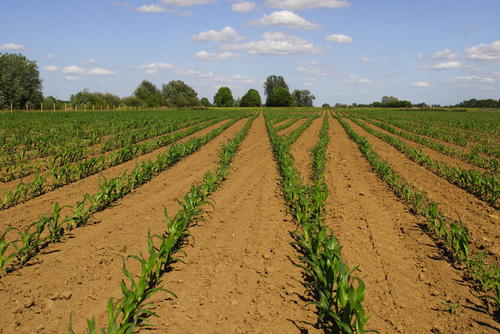 ---
Standard and Optional Equipment
The RO-XL/RO-EDW spreaders are also available mounted on a trailer frame.
Central Hydraulic Drive as option available for the RO-XL/EDW.
Easy to assemble aluminium hopper extensions are available to increase hopper capacity.
An easy to fold in and out hopper cover is as option availble. Simple to fit!
Left/right shut off valve for spreading at half working widths is optional available.
To ensure a consistent flow when spreading low quantities, the RotaFlow system is equipped with a fine application kit. Ideal for spreading low quantities, seeds and slug pellets.
Delta shaped heavy duty grids are standard equipment of the RO-XL/RO-EDW spreader.
Centre gear box with 2 input shafts for high and low disc speed settings is standard equipment of the RO-XL/RO-EDW spreader.
Hopper emptying kit is optional available to easy get the last fertiliser out of your hopper.
Easy calibration is done with the optional calibration container.
Long life time LED lighting set, are optional for the RO-C, RO-M and RO-M EW. For the RO-XL, RO-EDW and RO-EDW GEOspread spreader is this standard equipment.
The mud guards (option) protect the spreading disc against mud, water etc.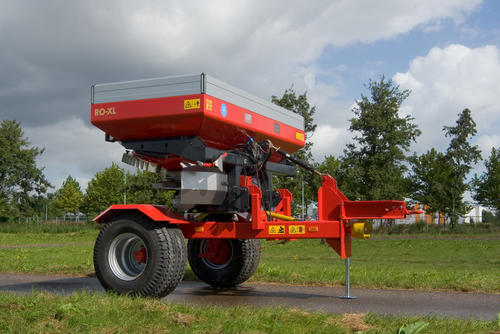 There are no products matching the selection.
Opening Hours
Monday to Friday 8:00 - 5:00
Saturday 8:00 - 12:00
find us
Franks Curtis Ltd
Beansheaf Industrial Park
Kirby Misperton
Malton
North Yorkshire
YO17 6BG
Tel: 01653 668501