Extra 632T Pro
Vicon EXTR∆ 632T Pro
Centre Mounted Mower Conditioner
The pulled suspension of the new EXTRΔ 632T Pro is Vicon know-how transferred to mounted disc mowers - a new standard for ground flotation normally only seen on trailed versions. With its 3.2m working width and hydraulic suspension it is a truly high performance machine that combines perfectly into combination with a front-mounted mower conditioner 3.2m working width.
The Advantages
SemiSwing steel tine conditioning.
Hydraulic centre suspension.
FreeFloat pulled suspension.
Two speed gearbox.
125° vertical transport position.
Fully welded EXTRΔ cutterbar with triangular discs.
Technical Specifications
| | | | | |
| --- | --- | --- | --- | --- |
| | Working Width | No. of Discs | Conditioner | Power Req, Min |
| EXTRΔ 632T Pro | 3.18m | 8 triangular discs | SemiSwing | 70/90 kW/hp |




Highlight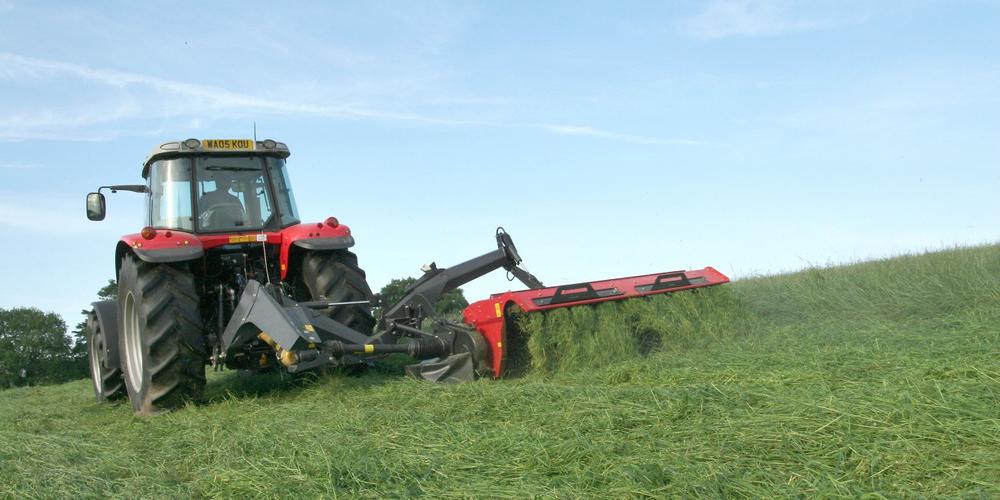 ---
EXTRΔ Cutterbar
The EXTRΔ cutterbar is designed for low maintenance and offers a very quiet operation.
Operators will immediately love the virtually quiet operation of the new cutterbar – convenient during a long and busy working day
Fully welded cutterbar for a very strong construction.
Even number of contrarotating discs for improved overlap.
Three bladed discs for more cuts.
Smooth stone guard design for excellent cutting quality.
High oil capacity ensuring low working temperature.
Low noise level thanks to specially tooled gear wheels.
Twisted knives for a clean cut in all conditions.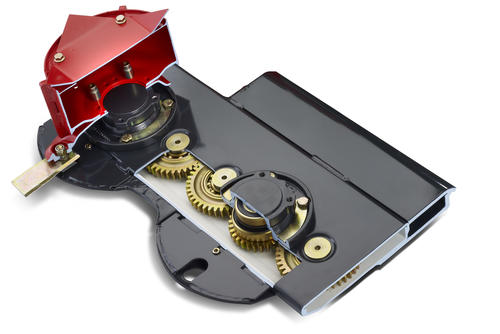 ---
SemiSwing Conditioner
The SemiSwing conditioner system combines the aggressive conditioning seen from fixed fingers with the excellent tine protection typically associated with free swinging tines.
During normal operation the tines are fixed for effective conditioning, but if a SemiSwing tine comes into contact with an obstacle, force will exceed 22 kg (48.5 lbs) and it will spring back and leave a generous space for the obstacles up to 103 mm to pass.
The complete conditioner tine has been redesigned to move the centre of gravity. The result is that the tine will stay in position when hitting the crop, to give full conditioner effect and to minimise wear and tear on the turning points.
The angle and position of the SemiSwing tines give a better crop transport. The crop is moved away from the conditioner rotor, resulting in reduced risk of blockages and full effect of the conditioner plate.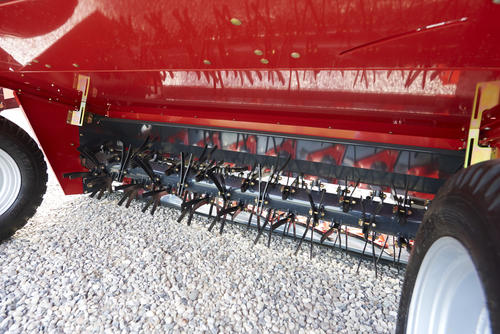 ---
EXTRΔ 632T FreeFloat Suspension
The FreeFloat Suspension concept is the Vicon solution to precise and trouble free mowing.
The mowing unit is centrally suspended to give more precise ground contour following.
The mowing unit features a pulled suspension system to allow the cutting unit to indepently fl oat over ridges and contours.
This ensures accurate, close cutting performance in all conditions.
---
Hydraulic Centre Suspension
Hydraulic suspension for easy and precise setting of ground pressure.
Pulled centre suspension for even weight distribution and excellent adaptation.
With its 3.2 m working width and hydraulic suspension it is a truly high performance machine that combines perfectly into combination with a front-mounted mower conditioner to offer a total working width of 6.2 m.

---
Two Speed Gearbox
The Vicon EXTR∆ 632T is fi tted with a 2-speed gearbox for conditioner speeds of 900 or 600 rpm.
This allows you to choose between intensive conditioning or low fuel consumption when the crop only requires limited conditioning effect.
The lever is conveniently positioned for easy access on top of the gearbox.
---
Transport Position
The EXTR∆ 632T is folded hydraulically into a vertical transport position.
The low gravity point during transport provides an excellent weight distribution, which protects the headstock and tractor from excessive forces resulting from humps and bumps.
The tractor remains well under control even during high speed road transport.
There are no products matching the selection.
Opening Hours
Monday to Friday 8:00 - 5:00
Saturday 8:00 - 12:00
find us
Franks Curtis Ltd
Beansheaf Industrial Park
Kirby Misperton
Malton
North Yorkshire
YO17 6BG
Tel: 01653 668501