Extra 328 - 332 - 336 - 340
Extra 328 - 332 - 336 - 340
Vicon EXTRΔ 328 - 332 - 336 - 340
Centre Mounted Disc Mowers
Vicon EXTR∆ 300 rear mounted disc mower range boasts an extensive working range of 2.8-4.0m with corresponding
weights ranging from 810-940kg which means the machines can be operated with tractors starting from only 50 hp,
making these very attractive machines for farmers with smaller tractors, who still needs to cut substantial areas.
Paired with the EXTR∆ 328F or 332F front mounted machine the joint working width is up to an amazing 6.8m.
The Advantages:
Available with hydraulic spring adjustment.
NonStop BreakAway
Up to 125° Vertical Transport Solution
Centre Suspension
540/1000 Rpm Gearbox
Fully welded EXTRΔ cutterbar with triangular discs.
Technical Specifications:
| | | | |
| --- | --- | --- | --- |
| | Working Width | Weight | Power Req. Min. |
| EXTRΔ 328 | 2.84m | 806kg | 37/50 kW/hp |
| EXTRΔ 332 | 3.18m | 840kg | 40/55 kW/hp |
| EXTRΔ 336 | 3.50m | 896kg | 44/60 kW/hp |
| EXTRΔ 340 | 3.94m | 940kg | 51/70 kW/hp |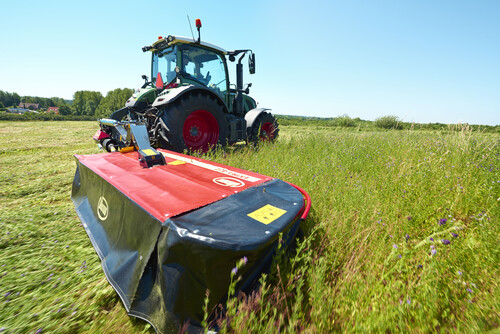 Highlights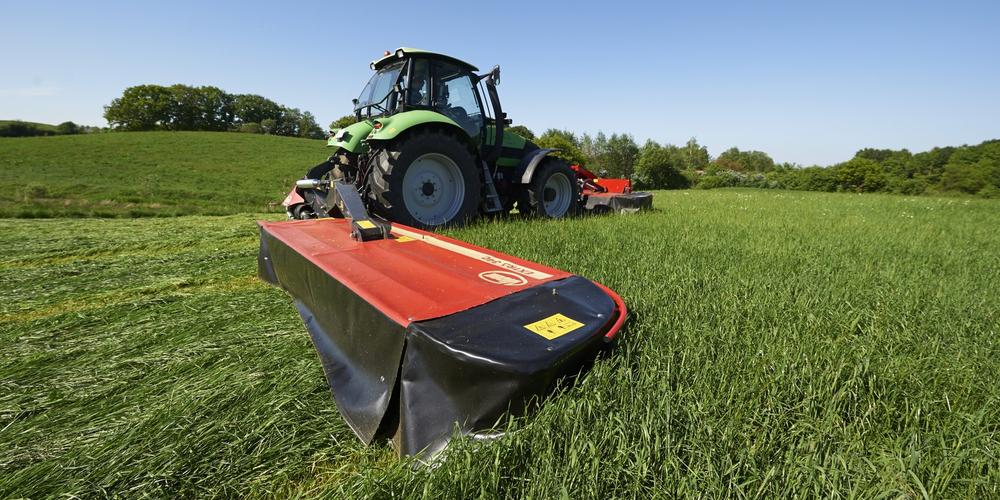 ---
Hydraulic Spring Adjustment
This feature provides easy and simple setting of the ground pressure. For greater operator comfort, ground pressure of the large suspension spring is set hydraulically from the tractor cab. On the hydraulic version the tension on the large suspension spring, which controls the ground pressure, is adjusted hydraulically, to increase or lower pressure. The chosen ground pressure level is conveniently registered from the easy-to-read scale.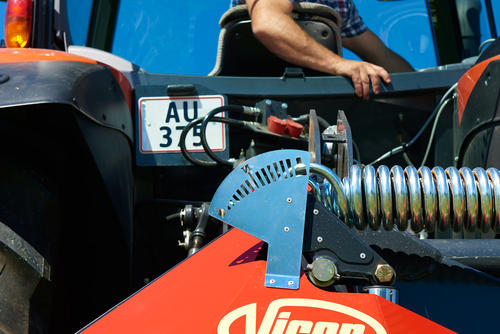 ---
Centre Suspension
The centre pivot suspension provides an even weight distribution of the EXTRΔ 300 series, 400H, 624T and 628T and a uniform ground pressure over the complete working width, ensuring good ground contour following.
The mowing units are suspended in the centre of gravity. This design provides a constant, faster and more precise adaptation to ground contours.
The benefit is less skid wear, optimum protection of the stubble and less fuel consupmtion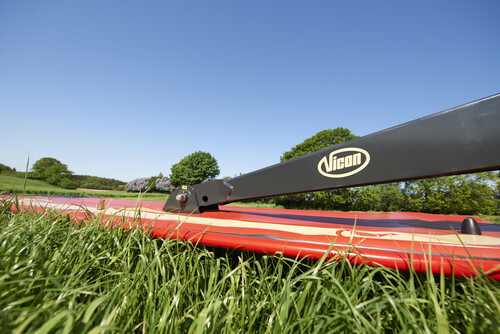 ---
Protection of Cutterbar
To offer maximum protection of the cutterbar, these machines are fitted with the well-known Vicon BreakAway solution.
When encountering an obstacle, the BreakAway will swing the machine backwards and over the obstacle, returning it to the original working position once the obstacle has been passed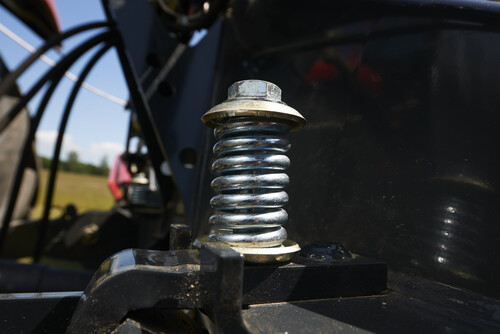 ---
Vertical Transport Solution
EXTRΔ 300 series, 624T and 628T are folded into a vertical transport position up to 125°.
The low gravity point during transport, with the weight of the mower close to the tractor, provides an excellent weight distribution, even during high speed road transport, and the machine is fixed by the hydraulic lifting arm.
In addition transport height is limited, so passing through narrow gateways or under bridges is not a problem.
Another benefit is that the hydraulic cylinder also supports quick lifting of the mower from working to headland position.




---
Two Speed Gearbox
The machines also offer a large degree of operating adaptability, as they are factory fitted with the option of being operated with either 540 or 1000 rpm.
It requires no additional accessory. All that is needed is to turn the main gearbox on the suspension 180°.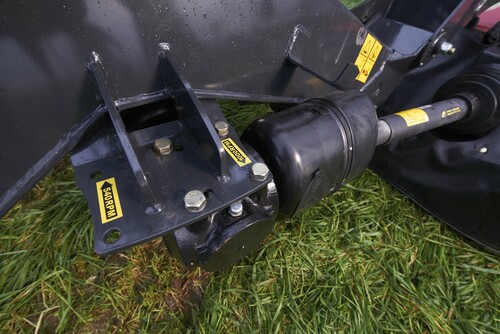 ---
EXTRΔ Cutterbar
The EXTRΔ cutterbar is designed for low maintenance and offers a very quiet operation.
Operators will immediately love the virtually quiet operation of the new cutterbar – convenient during a long and busy working day
Fully welded cutterbar for a very strong construction.
Even number of contrarotating discs for improved overlap.
Three bladed discs for more cuts.
Smooth stone guard design for excellent cutting quality.
High oil capacity ensuring low working temperature.
Low noise level thanks to specially tooled gear wheels.
Twisted knives for a clean cut in all conditions.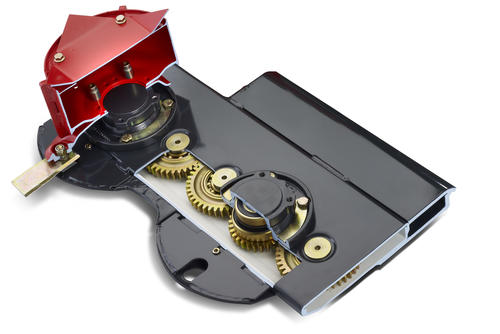 There are no products matching the selection.
Opening Hours
Monday to Friday 8:00 - 5:00
Saturday 8:00 - 12:00
find us
Franks Curtis Ltd
Beansheaf Industrial Park
Kirby Misperton
Malton
North Yorkshire
YO17 6BG
Tel: 01653 668501