Fanex 464 - 524T 524
Vicon Fanex 464 - 524T - 524
Compact and Robust Design
Vicon offers 3 versions of compact tedders with low maintenance requirements and a working-width ranging from 4.6m to 5.2m. Maintenance-friendly features include 500mm rotor plates and an easy-to-maintain gearbox. All tedders can be adjusted centrally to move the tedder to the desired position for border tedding.
The Advantages:
Low maintenance CompactLine gearbox with only one grease nipple.
Compact tedders with low weight and power requirements.
Rotor plate dimension of 500mm.
Double bearings from pinion to crown wheel guarantee maximum longevity of the driveline.
Super-C tines with large spring coil diameter for added service life.
Easy setting of spreading angle through simple three-way adjustment of wheel height.
Technical Specifications:
| | | | |
| --- | --- | --- | --- |
| | Working Width | Rotors/Tines | Weight |
| Fanex 464 | 4.60m | 4/5 | 492kg |
| Fanex 524 | 5.20m | 4/6 | 520kg |
| Fanex 524T | 5.20m | 4/6 | 460kg |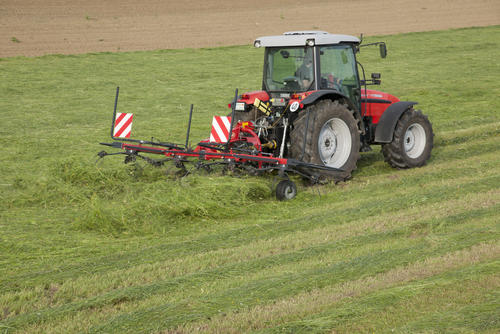 Highlights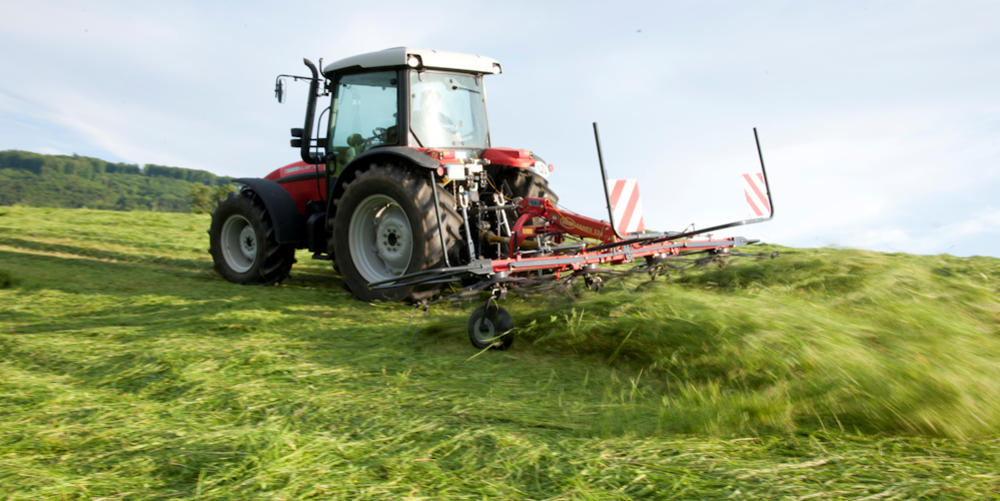 ---
Heavy Duty Main Frame Design
Box shaped main frame with only one welding seam for maximum rigidity.
The frame design is fully enclosed at the top edge for maximum strength – an exceptionally solid design,
Double universal joints give smooth and efficient transfer of power.
Greasable pivoting points with large diameter guarantee a very strong and reliable construction.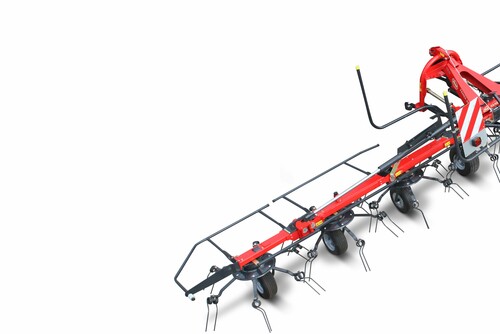 ---
Super-C Tines
Super-C Tines – Even Spread,Clean Job
Made from flat steel, the tine arms form a very compact unit with the rotor plate and utilize the force of the rotor plate for higher durability of the time arm. This makes a Fanex tine arm by far more resistant to any type of load.
The Super-C tine can be locked in three positions to customize the pickup angle to different conditions. For heavy silages the angle can be set more aggressive and for fragile crop a gentler angle can be chosen.
Made from 10mm shot-peened spring steel and a coil diameter of 80mm, Super-C tines add up to the most durable and flexible tine in the market.
Super-C tine with symmetric spring tines ensures efficient pick-up and turning of the crop. Tines with same lengths has the added advantage that load is spread evenly on both tines, providing longer life time.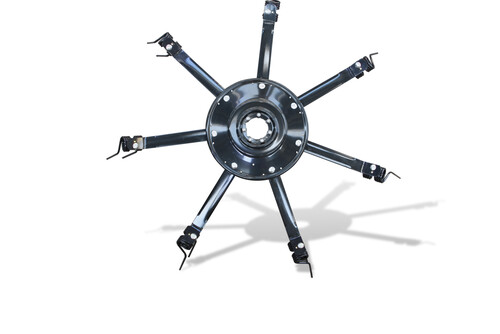 ---
Spreading Angle
Simple three-way adjustment of wheel height, allows the optimum spreading angle to be achieved according to crop conditions.
High-quality forage allows the optimum spreading angle to be achieved according to crop conditions, helping you to produce high quality forage.
Setting the rotors to the right spreading angle will considerably improve the spreading action, and speed up the drying process.
The mower swaths are neatly lifted by the tines and evenly spread over the full width.
Tines glide in a more uniform frequency over the stubble, so the risk of dirt being lifted by the tines is minimized.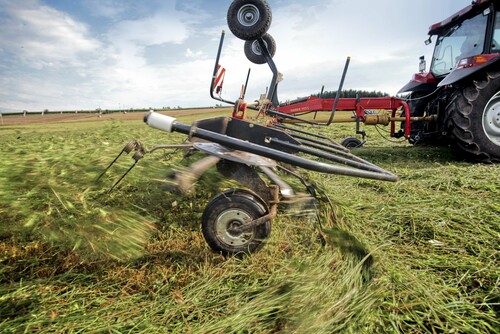 There are no products matching the selection.
Opening Hours
Monday to Friday 8:00 - 5:00
Saturday 8:00 - 12:00
find us
Franks Curtis Ltd
Beansheaf Industrial Park
Kirby Misperton
Malton
North Yorkshire
YO17 6BG
Tel: 01653 668501